Naked guy hair styling
Hey there once more everyone, and like usual welcome back to a new and fresh cfnm show today. In this new and hot scene, we set up a nice little shop for some birthday babes today. Their buddies decided to have some fun and as they'd get their hair styled for the afternoon they would have to go into this hair salon where they had the guys do their work all nude. Well the birthday babes were pleasantly surprised as you can bet and it was quite the nice scene to see them react to the whole thing today. Let's get on with it as we bet you guys are also in the mood to see things go naughty too. So let the naughty and kinky show begin!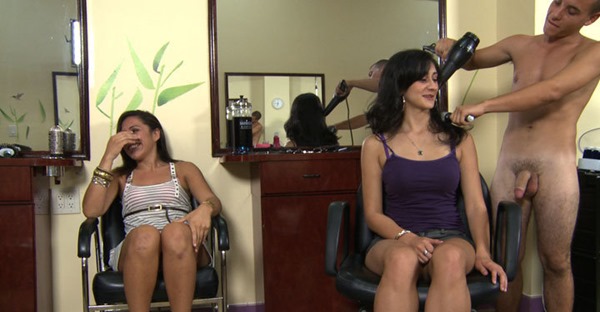 The brunette mature getting her hair done didn't take too long to accommodate with the whole thing. She's quite wild and kinky herself and you can bet that you will be seeing her get even more into it as well as she just had to get touchy feely with the guy's private parts. As he's styling her long black hair, you get to see her rewarding him for a good job with some tender loving care on his cock as she strokes it nicely. See her slutty hand jerking the dude off nicely and you can bet that he enjoyed the feel on his cock as well today. have fun with it and as usual see you guys next week once more with new and fresh galleries. Bye bye!